Why are crowns or bridges necessary?
Related Dental Crown Articles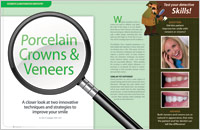 Porcelain Crowns & Veneers
A closer look at two innovative techniques and strategies to improve your smile. In many instances these two restorative techniques can produce nearly identical esthetic results, even though they are structurally different… Read Article
Value Of Quality Care
Are all crowns created equal? One of the most important factors adding to cost is the quality of the crown itself. Another fact is that dentists generally sub-contract out crown manufacturing to a dental laboratory technician, as they rarely make crowns themselves… Read Article
Creating In-Office Dental Restorations With Computers
Once upon a time, dentists – and patients – needed to wait weeks for a dental laboratory to make crowns and other dental restorations. Now, with an exciting digital technology known as Computer-Aided Design/Computer-Aided Manufacturing (CAD/CAM), some dentists are fabricating high-quality restorations themselves right in their own offices – in minutes! Read Article
Chipped tooth or a broken large filling can be detrimental to your chewing ability and esthetics. Crowns are recommended to prevent breakage of your teeth either due to a large decay or after a root canal procedure.
Crowns improve your ability to chew the food and improved your overall dental health.
There are a large variety of dental crowns today in the market ranging from a full metal or metal fused to porcelain to full porcelain crown. We recommend that you stop by our office and let the doctor explain you which type of crown suits you the best.
Crown or Bridge procedure usually takes 2 visits- the first visit we shape your teeth and then make an impression of your teeth to send it to the dental laboratory. While you are waiting for your crown/bridge we place the temporary crown or bridge so your teeth are not exposed to the oral environment. It takes about 7-10 business days for the dental lab to fabricate your case. The second visit we cement your crown or bridge with a permanent cement after it passes our quality check.
When you are missing one or more teeth, we can fill in the space with the help of a dental bridge. We prepare 2 adjacent teeth which act as supporting pillars to cross the area where you are missing teeth. It is then cemented onto the prepared abutments permanently.
Bridge is a fixed option as compared to the removable partial dentures. Meaning that the bridge does not have to be removed every night unlike a partial denture.